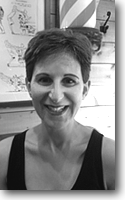 Carole's passion for cutting hair began in the West End of London.
Her career started as an apprentice at the prestigious Robert Fielding Academy.
She subsequently went on to work in several City Barber shops.
Carole also worked here for the previous owner and has been cutting away for the last six years at The Wanstead Barber Shop.
After racking up a total of 24 years in experience in hairdressing, Carole's cutting and styling techniques along with her friendly, fun and upbeat personality, always leaves customers happy and returning again and again.


| | | |
| --- | --- | --- |
| | | AVAILABILITY: |
Friday, Saturday.

Emma has 18 years of experience in Barbering and began her career at the legendary Vidal Sassoon in bond street.
She then went on to working to more of their branches in the city…Read More
Gemma has an extensive 20 years career in barbering.
Her barbering career started as an apprentice at the legendary Vidal Sassoon where she also trained along side with salon owner Emma…Read More
Tina has over 34 years experience in Barbering and has worked in several Barber shops.
For many years she has also worked freelance…Read More
Carole's passion for cutting hair began in the West End of London.
Her career started as an apprentice at the prestigious Robert Fielding Academy…Read More
Es started his career in several London Barbers shops alongside the renowned (Alan D).
It was here, he trained and learned the art of Barbering alongside cut throat…Read More
Rav has worked and trained in barbershops all over the west end of London along with a few years in North London racking up 15 years of experience as a skilled barber…

Read More